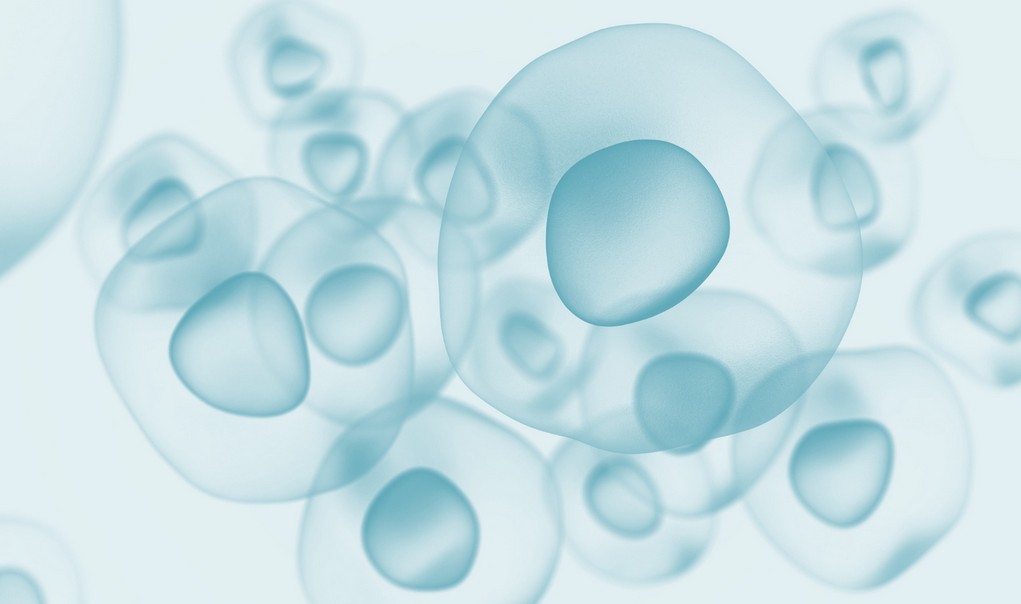 CHO Cell Line Development
Discover our CHO Host Cell Platforms CHOnamite® and CHOFlow®
Cell line development is a critical building block for a successful biopharmaceutical production. Therefore, highly productive and reliable mammalian expression systems with accelerated timelines to fasten up speed-to-market are desired. With the development of FyoniBio's CHO expression systems, CHOnamite® and CHOFlow®, rapid generation of highly producing and excellent quality CHO production cell lines come into the focus. Combining the in-housed developed platform with customized requirements is the desired approach for tailormade biopharmceutical development which meets your project requirements.
---
A Multiple CHO Host Cell Line Approach Enables Flexibility and Perfect Matching!
Different CHO host cell lines can influence critical quality attributes of a biopharmaceutical by impacting productivities, posttranslational modifications and general product quality. The variety of our CHO host cell lines allows to select the perfect match for each individual project.
Choose the Perfect Cell Line for your Molecule…
CHOnamite®: Highly productive expression platform consisting of CHO-K1 and CHO-DG44 based cell lines and
CHOFlow®: Glycoengineered CHO-K1 FUT8 knock out cell line technology for production of afucosylated monoclonal antibodies to enhance ADCC effector function.
Learn more about the CHOFlow® platform suitable for the production of afucosylated biotherapeutics.
… Express your Molecule at Highest Productivity and Desired Glycan Profile.
If you are wondering, what the perfect host cell match is just get in touch with our experts. They can help for decision, support your project and speed it up to IND.
---
Highly Productive, Stable CHO Pools for Early Material Production
Sophisticated expression vector design in combination with sets of signal peptides and multi-variate transfection approaches form the basis to generate pools and clones with highest productivity expressing you molecule with the desired glycan profile, either "classical" or afucosylated at speedy timelines.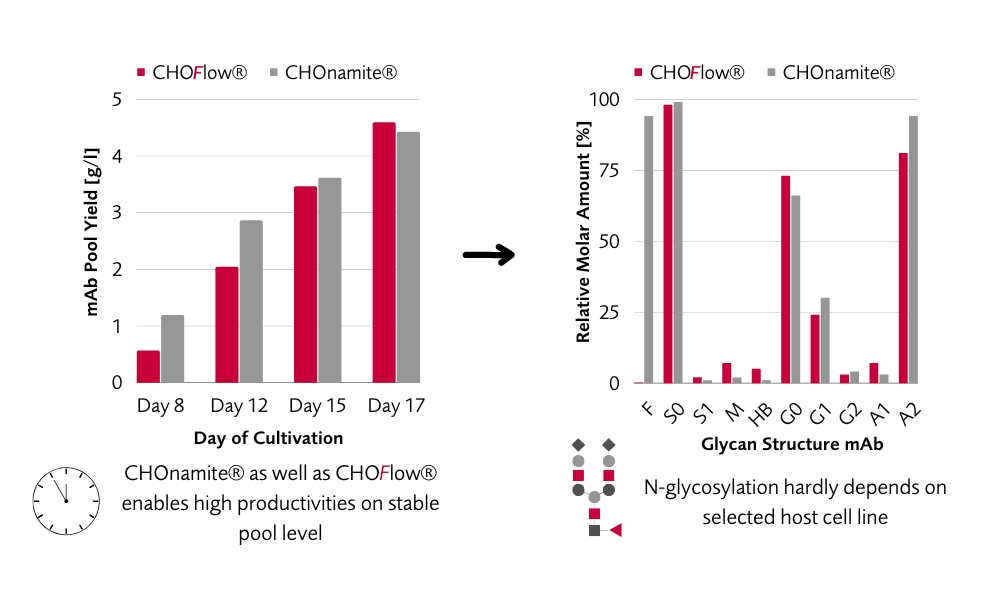 ---
Our Combinatorial and Customized CHO Cell Line Development Meets Regulatory Requirements
Flexibility in our CHO cell line development (CLD) workflow is the key for successful development of each individual project. Combining extensive expertise with full traceability, regulatory compliance and well established platforms pave the way for customized CHO CLD solutions. Both CHOnamite® and CHOFlow® are characterized by high productivity at desired product quality. Long-term stability comes along with established fed-batch processes resulting in outstanding manufacturability.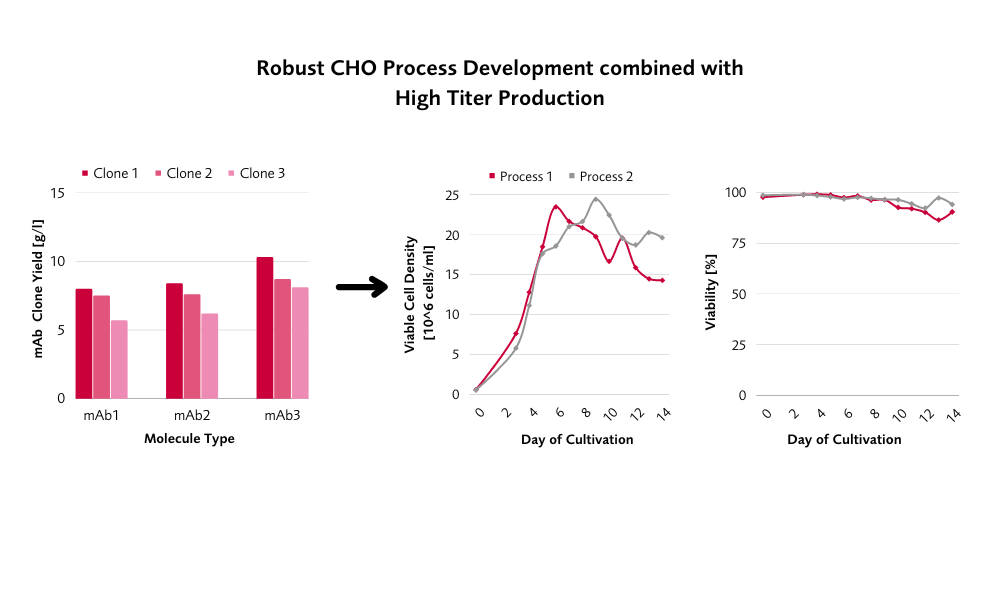 ---
Need more information about our CHO cell line development services?
Frequently Asked Questions (FAQ) for Cell Line Development Services
Are your services adaptable to the requirements of different drug development programs?
Each project is unique. We can certainly tailor our services to your specific needs. Each individual project is planned to meet the customer's specifications, costs and time lines. The project plan, consisting of one or more working packages, has a flexible design and can be discussed and adapted, if desired. Get in touch with us and discuss the specific requirements of your project.
What is the timeline for a CHOnamite® and GEX® cell line development?
The capability of CHO cells ranges from high mannose structures to fucosylated complex N-glycan structures with up to multiple antennae. A general characteristic is a high sialylation in α2,3 linkage. For GEX® cells comparably lower amounts of high mannose are observed. The capping of N-glycans with sialic acid can be adjusted by chosing a different GEX® cell line. Process parameters during production are adjustable tAn RCB can be obtained already after 16 or 20 weeks for the CHOnamite® and GEX® platform, respectively. Depending on the customer's requirement on clonality a second cloning round might be needed which takes 6-8 more weeks.
---
Cell Line Development Services – Related Content
Learn more about the CHOFlow® platform for the production of afucosylated biotherapeutics.
Learn more about the human GlycoExpress® platform.
Explore how the potential of your biotherapeutic can be evaluated across multiple cell line platforms in our customized feasibility study.
Cell Line Development Services – Downloads