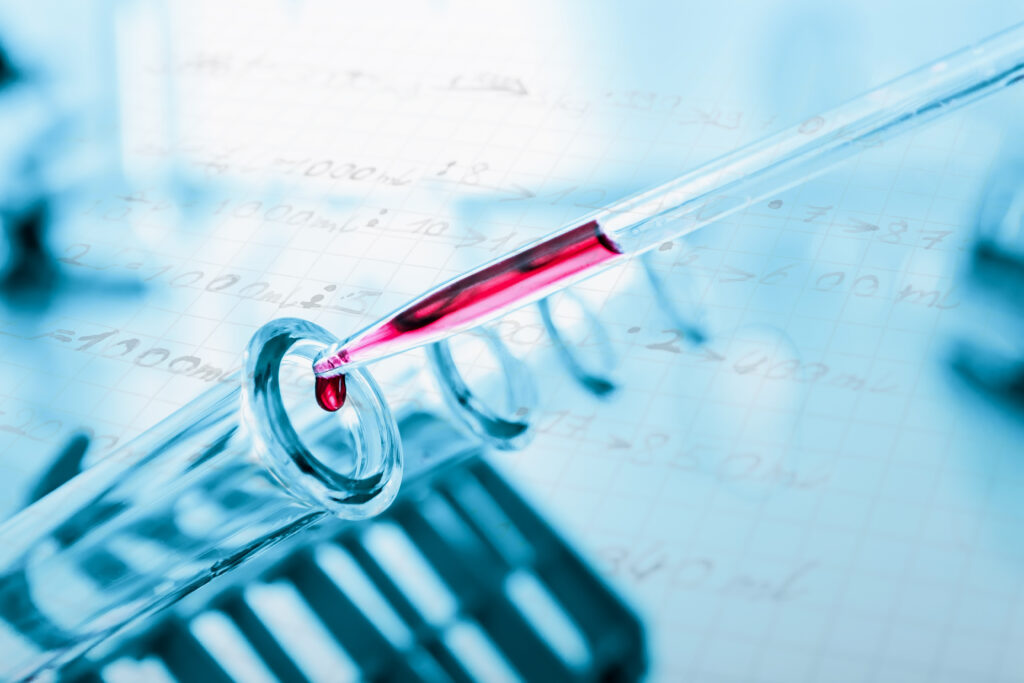 Cell Line Development
Identify the matching host cell line for your biotherapeutic
Optimum productivity and bioactivity is not always achieved with one single cell host as product quality attributes may differ widely from one biotherapeutic to another. Therefore, finding a suitable expression host is critical to support desired product characteristics. FyoniBio provides custom-tailored cell line development services using its expression platforms GlycoExpress® and CHOnamite® to find the most suitable host cell line.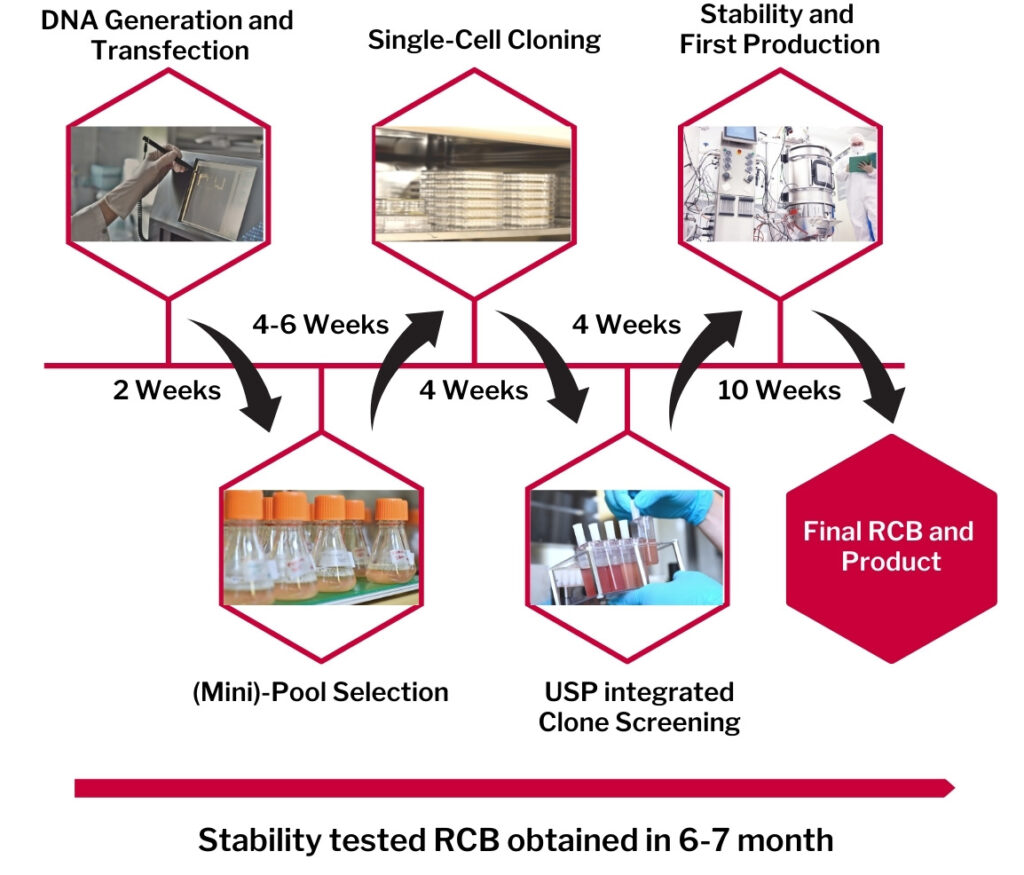 ---
Cell Line Development Services using GlycoExpress®
GlycoExpress® (GEX®) is a screening and high yield production platform of proprietary glyco-optimized human cell lines for development and production of biotherapeutics with authentic human PTMs (e.g., glycosylation). GEX® enables high quality expression of difficult-to-express glycoproteins.
Learn more about the the GlycoExpress® platform.
Cell Line Development Services using CHOnamite®
CHOnamite® is an in-house developed CHO platform originating from CHO-K1 and CHO-DG44 cells. The technology enables high yield production of antibodies, complex mammalian proteins and can be used to find the right solution for biosimilar development. Find best matching quality attributes by double tracking in our multiple cell line platforms.
Cell Line Characteristics and Selection Criteria
CHOnamite®
"Dual cell line" platform originating from CHO-K1 and CHO-DG44 cell lines
High-yield production in fed-batch processes
Strategies for product specific glyco-optimization available
Expression of standard antibodies, biosimilars and complex mammalian proteins
GlycoExpress® (GEX®)
Genuine human glycosylation and further PTMs
High productivity for glyco-optimized products
Toolbox of glycoengineered cell lines: adjustment of sialylation, fucosylation, and mannose-6-phosphate
Established expression platform for difficult-to express, defucosylated and complex glycoproteins
Key Features for GEX® and CHOnamite® Cell Line Development
At FyoniBio, state-of-the-art cell line development is carried out to find highly productive cell clones with excellent quality parameters. With a customized feasibility study you can compare your protein in both GEX® and CHOnamite® cell lines at a low cost. Flexible, royalty-free licensing models are provided.
Robust and scalable systems
Tech transfer to GMP manufacturer of your choice
Flexible commercial licensing
Fully traceable documentation is provided for all cell line development projects to fulfill EMA and FDA requirements.
Benefit from FyoniBio's Fast Track Cell Line Development Services
Acceleration of cell line development is the key for a cost-efficient development of a biopharmaceutical manufacturing process. At FyoniBio we combine highly producing cell lines and customized expression vectors which are incorporated into pool and minipool selection procedures to increase probability of identifying high producer clones. To verify protein quality early on, direct integration of PTM/ glycan analytics into cell line development procedures is possible – in-house and with fast turnaround time.
Single cell cloning uses 3-4 highest producing (mini)-pools bringing forth clones with varying characteristics. Multiple rounds of clone screening are performed starting with initial 96-well screening up to bioprocess integrated screening in batch, fed-batch and perfusion mode using suitable down-scale models to directly find a process fitting monoclonal cell line.
Stability testing and the possibility for early USP optimization complete the cell line development procedure and enable direct transfer to a GMP manufacturer.
Obtain Reliably, High Producing, Glyco-optimized and Stable Cell Lines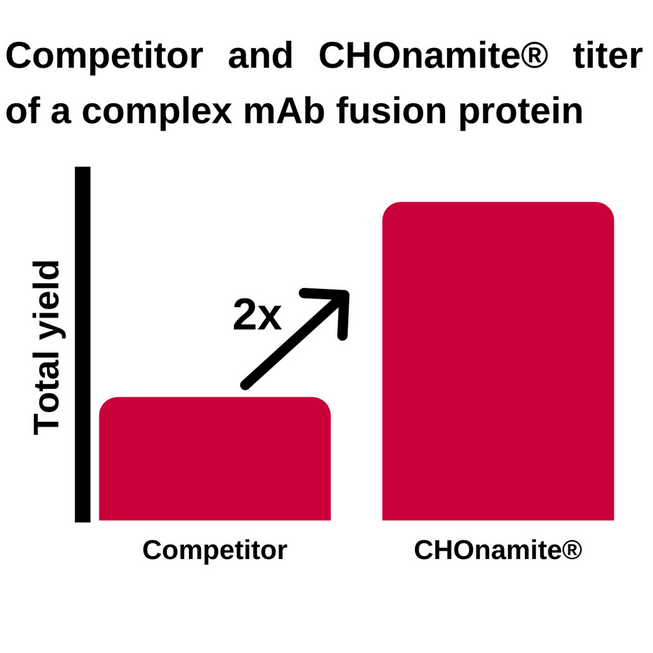 CHOnamite® cell lines in combination with fed-batch enable high yield productivity around 4-8 g/l for classical IgG1 molecules. A combination of clone screening with media testing results in selection of the best process conditions for high yield production.
Glyco-optimized GEX® cell lines are optimized for perfusion processes which are characterized by high reproducibility, scalability and product quality.
Need more information about our cell line development services?
Cell Line Development Services – Related Content
Learn more about the the GlycoExpress® platform.
Explore how the potential of your biotherapeutic can be evaluated across multiple cell line platforms in our customized feasibility study.
Cell Line Development Services – Downloads